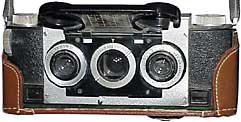 Though he lost his first Realist to the Colorado River when his raft flipped on the 10th day, the results from film shot before that (safely stored in a dry bag) ignited a new artistic obsession.
Fast forward more than a decade, to the spring of 2001. Invited to join a private 18-day rafting trip down the Grand Canyon, Gasperini realized that the batteries for his digital camera would not last the trip.
Coming across an old Stereo Realist camera from the 1950's, it occurred to him for the first time that he could make his own stereo photographs, and took it along.
Jim Gasperini taking the oars
on Doc Watson's boat
in the Grand Canyon.
Photo Margot Wilhelm