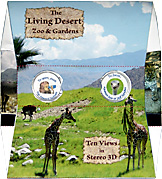 Prototype of an upcoming card
set for the Living Desert Zoo
and Gardens, Palm Desert CA
We work closely but efficiently with content experts and retail buyers to develop appealing, informative products tailored to the particular needs of each institution and its audience.

Custom photography is followed by the creation of a prototype, vetted and approved by curatorial and/or retail staff.


The final package usually includes:

Ten stereo 3D images (one inside the viewer, the others on small cards dropped into a slot on the top.)
Text information about each image.
Information about the institution.
Paper envelope for mailing.
Resealable polypropylene package.